Here are the 50 most frequently-asked questions that are posed in interviews. Be prepared to go into some detail about your work history; you may also be asked behavioral or situational questions which require you to provide an anecdote about how you have handled a work challenge in the past or, alternatively, how you would approach a situation in the future.
What Interview Questions Does Lowes Ask?
You don't need to memorize an answer, but do take the time to consider how you'll respond. The more you prepare, the more confident you'll feel during a job interview. When you're not sure what to expect during an interview, also take time to review this refresher on how job interviews work, and these tips on how to prepare to ace your job interview.
When they ask "how did you hear about the position?", the interviewer just wants to know if you've taken the time to research the company and if you have a genuine reason for wanting to talk with them. Mention a product, a mission statement on the website, a reputation for talented employees, or whatever else seems applicable to that specific company. Come up with a great reason. Don't make it seem like they're just one company among many. Or that you're sending your resume out to them for no particular reason other than wanting a job.
What your interviewer is really trying to do with this question—beyond identifying any major red flags—is to gauge your self-awareness and honesty. So, "I can't meet a deadline to save my life" is not an option—but neither is "Nothing! I'm perfect!" Strike a balance by thinking of something that you struggle with but that you're working to improve. For example, maybe you've never been strong at public speaking, but you've recently volunteered to run meetings to help you be more comfortable when addressing a crowd.
How Interview Questions?
"In my most recent position, I had recently been promoted to Supervisor, and was managing the department on my own right before the department closed. An employee was acting out and I confronted him in front of everybody. It made the situation worse and caused a lot of distraction for every employee on the floor. I failed to lead properly in this situation, and spoke to my manager the next day to discuss what I could have done differently. We both agreed that I should have handled this in-private with the employee, by asking them to step inside my office with me. If I had done this instead of reacting the way I did, the situation would have turned out much better. From that point onward, I am always conscious of whether a discussion with a team member should occur in public or behind closed doors, and it made me a better leader."
Everyone disagrees with the boss from time to time, but in asking this interview question, hiring managers want to know that you can do so in a productive, professional way. "You don't want to tell the story about the time when you disagreed but your boss was being a jerk and you just gave in to keep the peace. And you don't want to tell the one where you realized you were wrong," says Peggy McKee of Career Confidential. "Tell the one where your actions made a positive difference on the outcome of the situation, whether it was a work-related outcome or a more effective and productive working relationship."
Any candidate can read and regurgitate the company's "About" page. So, when interviewers ask this, they aren't necessarily trying to gauge whether you understand the mission—they want to know whether you care about it. Start with one line that shows you understand the company's goals, using a couple key words and phrases from the website, but then go on to make it personal. Say, "I'm personally drawn to this mission because…" or "I really believe in this approach because…" and share a personal example or two.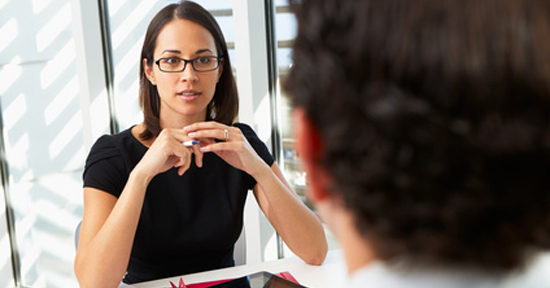 "I've heard great things about the work environment here from a few colleagues. And when I saw this job posting, it seemed to match my skills very closely. For example, I saw on the job description that you need somebody who's an expert in Java programming. This is what I focused on in both of my previous positions, and was even the focus of my academic work before graduating university. I consider myself an expert in Java and it's a skill I hope to continue specializing in."
My greatest weakness used to be procrastination. Friends who knew my work style would tease me, saying, "Panic precipitates performance." In college, I was the person who pulled all-nighters to finish their essay right before deadline. This isn't as irresponsible as it sounds—from the moment I'm assigned a project, I'm thinking about it. Most of my first and second drafts get composed mentally, so it's only a matter of writing down the final draft. And, since I have an excellent command of grammar, I don't have to spend much time proofreading or revising.
Depending on what's more important for the the role, you'll want to choose an example that showcases your project management skills (spearheading a project from end to end, juggling multiple moving parts) or one that shows your ability to confidently and effectively rally a team. And remember: "The best stories include enough detail to be believable and memorable," says Skillings. "Show how you were a leader in this situation and how it represents your overall leadership experience and potential."
Sample Job Interview Questions
Reliable salary calculators, like the one used by Glassdoor.com, say that experienced sous chefs here in Portland average around $50,964 a year, 5 percent below the national average. I brought home around $49,700 last year. While I would definitely welcome a salary over $50K, particularly given the cost of living here, I'm open to negotiation if a lower salary was accompanied by greater flexibility in scheduling and additional vacation time.
What They Want to Know: The interviewer wants to know why you're an excellent fit for the job. Try to answer questions about yourself without giving too much, or too little, personal information. You can start by sharing some of your personal interests and experiences that don't relate directly to work, such as a favorite hobby or a brief account of where you grew up, your education and what motivates you. You can even share some fun facts and showcase your personality to make the interview a little more interesting.
Interviewers ask personal questions in an interview to "see if candidates will fit in with the culture [and] give them the opportunity to open up and display their personality, too," says longtime hiring manager Mitch Fortner. "In other words, if someone asks about your hobbies outside of work, it's totally OK to open up and share what really makes you tick. (Do keep it semi-professional, though: Saying you like to have a few beers at the local hot spot on Saturday night is fine. Telling them that Monday is usually a rough day for you because you're always hungover is not.)"
Even so, if you're asked, provide a sharp, on-point answer. Be clear and precise. If you're a great problem solver, don't just say that: Provide a few examples, pertinent to the opening, that prove you're a great problem solver. If you're an emotionally intelligent leader, don't just say that: Provide a few examples that prove you know how to answer the unasked question.
Questions about your family status, gender ("How would you handle managing a team of all men?"), nationality ("Where were you born?"), religion, or age, are illegal—but they still get asked (and frequently). Of course, not always with ill intent—the interviewer might just be trying to make conversation—but you should definitely tie any questions about your personal life (or anything else you think might be inappropriate) back to the job at hand. For this question, think: "You know, I'm not quite there yet. But I am very interested in the career paths at your company. Can you tell me more about that?"
Here are the 50 most frequently-asked questions that are posed in interviews. Be prepared to go into some detail about your work history; you may also be asked behavioral or situational questions which require you to provide an anecdote about how you have handled a work challenge in the past or, alternatively, how you would approach a situation in the future.