Great candidates also want to be great employees. They know every organization is different -- and so are the key qualities of top performers in those organizations. Maybe your top performers work longer hours. Maybe creativity is more important than methodology. Maybe constantly landing new customers in new markets is more important than building long-term customer relationships. Maybe the key is a willingness to spend the same amount of time educating an entry-level customer as helping an enthusiast who wants high-end equipment.
If asked this question, be honest and specific about your future goals, but consider this: A hiring manager wants to know a) if you've set realistic expectations for your career, b) if you have ambition (a.k.a., this interview isn't the first time you're considering the question), and c) if the position aligns with your goals and growth. Your best bet is to think realistically about where this position could take you and answer along those lines. And if the position isn't necessarily a one-way ticket to your aspirations? It's OK to say that you're not quite sure what the future holds, but that you see this experience playing an important role in helping you make that decision.
As a cyber security specialist, my greatest strength is my intellectual curiosity. I enjoy researching the latest technology trends so that our critical information technology systems remain uncompromised. Not only do I do this by reading the latest issues of cyber security journals, I also convinced my employer to fund my participation in quarterly information technology conferences. This has allowed me to build a network of peer resources—many of whom are leaders in the field—that I can call upon for strategies when new threats arise to our systems. 
You won't be asked a hundred questions at a job interview, but it's completely understandable if you feel overwhelmed looking at this list. Just know this: Nobody expects you to have all the answers—that's what the experts at Monster are for. Still have questions about the hiring process? Join Monster today. As a member, you'll get career advice and useful tips sent directly to your inbox. From resume-writing checklists to lists of companies hiring to how to get promoted, Monster will help you plot an awesome career path, one step at a time. 
Behavioral Job Interview Questions
Again, companies want to hire people who are passionate about the job, so you should have a great answer about why you want the position. (And if you don't? You probably should apply elsewhere.) First, identify a couple of key factors that make the role a great fit for you (e.g., "I love customer support because I love the constant human interaction and the satisfaction that comes from helping someone solve a problem"), then share why you love the company (e.g., "I've always been passionate about education, and I think you guys are doing great things, so I want to be a part of it").
This interview question seems forward (not to mention intimidating!), but if you're asked it, you're in luck: There's no better setup for you to sell yourself and your skills to the hiring manager. Your job here is to craft an answer that covers three things: that you can not only do the work, you can deliver great results; that you'll really fit in with the team and culture; and that you'd be a better hire than any of the other candidates.
DON'T say a number. Why? you have the least amount of leverage possible at this point, assuming you're early in the interview process. You haven't finished interviewing with them, they don't know if you're any good or if they even want to hire you. So you can't command a high salary right now. If you go too low with your price, they'll hold you to it later. Go too high? You'll scare them off before they even know what you're worth!
Even so, don't be tempted to fib and claim to enjoy hobbies you don't. Focus on activities that indicate some sort of growth: skills you're trying to learn, goals you're trying to accomplish. Weave those in with personal details. For example, "I'm raising a family, so a lot of my time is focused on that, but I'm using my commute time to learn Spanish."
As an ER nurse, I find that the best way for me to de-stress when I'm not working is to relax outdoors, rain or shine. I've always been an avid hiker, nature photographer and trout fisher, and one of my favorite things to do is to volunteer with the U.S. Forest Service and with local salmon habitat restoration groups. I also lead group hikes on some of Mt. Baker's more challenging trails. This is where the skills I developed during my initial training as a military nurse sometimes come in handy. My current personal goal is to climb Mt. Rainier next summer. Being outdoors never fails to renew my spirit so that I'm able to be the best ER nurse I can be.  
Example: "Making a meaningful difference in the lives of my patients and their families motivate me to strive for excellence in everything I do. I look forward to seeing their reaction when we get a positive outcome that will change their lives forever. Like the family of a young boy we treated last year. At eight years old, he had experienced rapid weight gain and signs of depression. His parents described him as a usually joyful child, but now he seemed disengaged and uninterested in his typical schedule. In the end, we determined that it was hypothyroidism which is, of course, controllable with medication. The boy is adjusting well to the treatment and has returned to his joyful self. That's why I became a nurse and why I'm pursuing a position in pediatrics."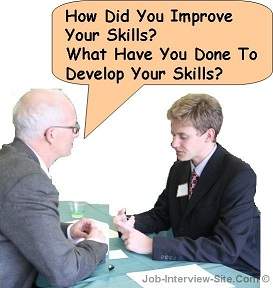 Example: "What I liked most about my last position the ability contribute in a collaborative way with other teams. Each team member was encouraged to bring new ideas to the project which were respectfully considered by all. For example, we once worked with a client who was relying on us to solve a critical issue. Our team met to discuss the situation. After I recommended a plan to resolve the issue, we took time considering the pros and the cons of the solution, building on how to make the idea better and more comprehensive. When we implemented it, it worked better and faster than everyone expected. The client was very pleased."
Whenever possible, you should speak about your achievements from the perspective of an employer (helping them to find new customers, helping them to improve their reputation, building good atmosphere on the workplace, earning more money, etc), rather than achievements from your own perspective (getting promoted, earning a degree or certification, etc).
This is a tough question to answer without dipping into platitudes. Try sharing leadership examples instead. Say, "The best way for me to answer that is to give you a few examples of leadership challenges I've faced," and then share situations where you dealt with a problem, motivated a team, worked through a crisis. Explain what you did and that will give the interviewer a great sense of how you lead.
How Interview Questions and Answers?
"In my most recent position, I had recently been promoted to Supervisor, and was managing the department on my own right before the department closed. An employee was acting out and I confronted him in front of everybody. It made the situation worse and caused a lot of distraction for every employee on the floor. I failed to lead properly in this situation, and spoke to my manager the next day to discuss what I could have done differently. We both agreed that I should have handled this in-private with the employee, by asking them to step inside my office with me. If I had done this instead of reacting the way I did, the situation would have turned out much better. From that point onward, I am always conscious of whether a discussion with a team member should occur in public or behind closed doors, and it made me a better leader."
How To Respond: Take the "middle road" as you answer these questions: you don't want to appear overly cocky or full of yourself, but neither do you want to be self-deprecating or "hide your light under a bushel." The best tone to use is one of quiet confidence. If you are asked a "trick" question about your weaknesses or mistakes you have made in the past, own up to a minor failing but then explain how you learned to remediate the issue.
When answering this question, interview coach Pamela Skillings recommends being accurate (share your true strengths, not those you think the interviewer wants to hear); relevant (choose your strengths that are most targeted to this particular position); and specific (for example, instead of "people skills," choose "persuasive communication" or "relationship building"). Then, follow up with an example of how you've demonstrated these traits in a professional setting.
How To Respond: Take the "middle road" as you answer these questions: you don't want to appear overly cocky or full of yourself, but neither do you want to be self-deprecating or "hide your light under a bushel." The best tone to use is one of quiet confidence. If you are asked a "trick" question about your weaknesses or mistakes you have made in the past, own up to a minor failing but then explain how you learned to remediate the issue.
You can start by reviewing the top 50 popular interview questions asked by employers, as well as the sample answers for each question on the list. Click through to the Best Answers links to get tips on what information you should include in your response - as well as what details to leave out. You can expect to hear at least one - and likely more - of these questions during your next job interview.
"Choose an answer that shows that you can meet a stressful situation head-on in a productive, positive manner and let nothing stop you from accomplishing your goals," says McKee. A great approach is to talk through your go-to stress-reduction tactics (making the world's greatest to-do list, stopping to take 10 deep breaths), and then share an example of a stressful situation you navigated with ease.
Remember that employers hire workers to solve a problem, whether it's boosting sales or streamlining processes or building a brand. Your goal when making your pitch is to show that you're the best person to solve that problem. Interviewers ask questions about why you should be hired to measure how you qualify for the job and fit in with the company.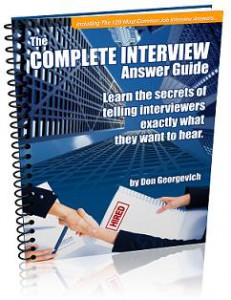 What They Want to Know: The interviewer wants to know why you're an excellent fit for the job. Try to answer questions about yourself without giving too much, or too little, personal information. You can start by sharing some of your personal interests and experiences that don't relate directly to work, such as a favorite hobby or a brief account of where you grew up, your education and what motivates you. You can even share some fun facts and showcase your personality to make the interview a little more interesting.