Example: "I'm able to stay calm when I focus on the bigger picture and break down my projects into smaller tasks. What is the ultimate goal I'm trying to achieve? From there, I make a list of action items with reasonable deadlines. Even if the big project is due tomorrow, I ask myself, 'What's something I can tackle in the next 30 minutes?' Before I know it, I've made significant progress and that impossible project doesn't seem so impossible."
Well, seriously, you might get asked brainteaser questions like these, especially in quantitative jobs. But remember that the interviewer doesn't necessarily want an exact number—he wants to make sure that you understand what's being asked of you, and that you can set into motion a systematic and logical way to respond. So, just take a deep breath, and start thinking through the math. (Yes, it's OK to ask for a pen and paper!)
Questions to Ask During a Job Interview
Tell a story. Take your qualification and share a brief story that illustrates how you've effectively used it in a previous work experience. Begin by discussing what you believe the employer is looking for, and then explain, using your qualification and your anecdote, how you fulfill that need. Your answer should be no more than one to two minutes long.
Interview Questions to Ask?
What They Want to Know: The interviewer wants to know why you're an excellent fit for the job. Try to answer questions about yourself without giving too much, or too little, personal information. You can start by sharing some of your personal interests and experiences that don't relate directly to work, such as a favorite hobby or a brief account of where you grew up, your education and what motivates you. You can even share some fun facts and showcase your personality to make the interview a little more interesting. 

How To Respond: Before your interview, try to envision how, in an ideal case scenario, you would be able to enjoy longevity with the company you are applying to. What would you like to be doing in five years? Ten? Think about how best to align your career goals to the opportunities offered by the employer. Then, in your answer, "sell" your candidacy by enthusiastically postulating how you would be able to contribute to their operations and, steadily, assume positions of increasing responsibility.
Questions to Ask in a Job Interview
This is a tough question to answer without dipping into platitudes. Try sharing leadership examples instead. Say, "The best way for me to answer that is to give you a few examples of leadership challenges I've faced," and then share situations where you dealt with a problem, motivated a team, worked through a crisis. Explain what you did and that will give the interviewer a great sense of how you lead.
Remember that employers hire workers to solve a problem, whether it's boosting sales or streamlining processes or building a brand. Your goal when making your pitch is to show that you're the best person to solve that problem. Interviewers ask questions about why you should be hired to measure how you qualify for the job and fit in with the company.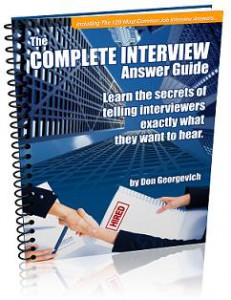 What They Want to Know: Another typical question interviewers will ask is about your weaknesses. Do your best to frame your answers around positive aspects of your skills and abilities as an employee, turning seeming "weaknesses" into strengths. You can also share examples of skills you have improved, providing specific instances of how you have recognized a weakness and taken steps to correct it.
If you are currently employed, you should be honest about the start date and show professionalism. You should tell them you would have to discuss a transition with your current company to see if they require a two-week notice (or some other timing). If you currently have a critical role, your potential new employer would expect a transition period.
What They Want to Know: This question gives you an opportunity to show the interviewer what you know about the job and the company, so take time beforehand to thoroughly research the company, its products, services, culture and mission. Be specific about what makes you a good fit for this role, and mention aspects of the company and position that appeal to you most.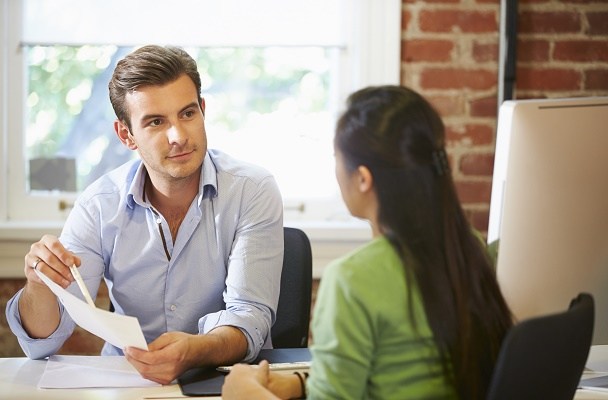 You can start by reviewing the top 50 popular interview questions asked by employers, as well as the sample answers for each question on the list. Click through to the Best Answers links to get tips on what information you should include in your response - as well as what details to leave out. You can expect to hear at least one - and likely more - of these questions during your next job interview.
"Choose an answer that shows that you can meet a stressful situation head-on in a productive, positive manner and let nothing stop you from accomplishing your goals," says McKee. A great approach is to talk through your go-to stress-reduction tactics (making the world's greatest to-do list, stopping to take 10 deep breaths), and then share an example of a stressful situation you navigated with ease.
Tip: Interviewers often ask this question as a way to determine whether or not you took time to research the company and to learn why you see yourself as a good fit. The best way to prepare for this question is to do your homework and learn about the products, services, mission, history and culture of this workplace. In your answer, mention the aspects of the company that appeals to you and align with your career goals. Explain why you're looking for these things in an employer.
Answers to this question go one of two basic ways. Candidates try to show their incredible ambition (because that's what they think you want) by providing an extremely optimistic answer: "I want your job!" Or they try to show their humility (because that's what they think you want) by providing a meek, self-deprecating answer: "There are so many talented people here. I just want to do a great job and see where my talents take me."
Here are the 50 most frequently-asked questions that are posed in interviews. Be prepared to go into some detail about your work history; you may also be asked behavioral or situational questions which require you to provide an anecdote about how you have handled a work challenge in the past or, alternatively, how you would approach a situation in the future.