Of course, if you have an issue that is very important to you that could be a deal-breaker (like company culture), you can mention it. Just be prepared for them to take one extreme or the other. For example, maybe you only want to work for companies that buy from vendors in your home country. The hiring manager will let you know if their company does this. And if they don't, I guess the interview is over.
How to Respond: While you should be honest in your answers, try to research the company before your interview to learn how they do business. Is good teamwork critical to their productivity? Or do they expect their staff to work independently? Is overtime or occasional weekend work required? Ideally, your responses to these questions will show that your work habits dovetail well with their own practices, expectations, and requirements.
Answers to this question go one of two basic ways. Candidates try to show their incredible ambition (because that's what they think you want) by providing an extremely optimistic answer: "I want your job!" Or they try to show their humility (because that's what they think you want) by providing a meek, self-deprecating answer: "There are so many talented people here. I just want to do a great job and see where my talents take me."
Example: "In my last role, I managed all social media content. I noticed other brands were experimenting with videos and seeing great engagement from their customers, so I asked my boss if we could do a low-budget test. She agreed, so I produced a video cheaply in-house that drove double the engagement we normally saw on our social channels. It also drove conversions, with 30% of viewers visiting to our website within a week of seeing the video."
Example: "I'm able to stay calm when I focus on the bigger picture and break down my projects into smaller tasks. What is the ultimate goal I'm trying to achieve? From there, I make a list of action items with reasonable deadlines. Even if the big project is due tomorrow, I ask myself, 'What's something I can tackle in the next 30 minutes?' Before I know it, I've made significant progress and that impossible project doesn't seem so impossible."
Which Interview Questions?
When they ask "how did you hear about the position?", the interviewer just wants to know if you've taken the time to research the company and if you have a genuine reason for wanting to talk with them. Mention a product, a mission statement on the website, a reputation for talented employees, or whatever else seems applicable to that specific company. Come up with a great reason. Don't make it seem like they're just one company among many. Or that you're sending your resume out to them for no particular reason other than wanting a job.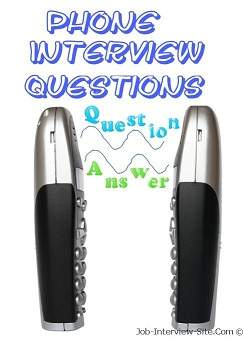 Being a good team player is expected, too. But what does this really mean? Getting along with everyone? That's not hard to do if you're a nice person. Pulling your weight in the office? Again, expected. What have you done, beyond your job description, that saved the team from a disaster or helped them make an impossible deadline? Have you won an award for this?