The #1 rule of answering this question is doing your research on what you should be paid by using sites like Payscale and Glassdoor. You'll likely come up with a range, and we recommend stating the highest number in that range that applies, based on your experience, education, and skills. Then, make sure the hiring manager knows that you're flexible. You're communicating that you know your skills are valuable, but that you want the job and are willing to negotiate.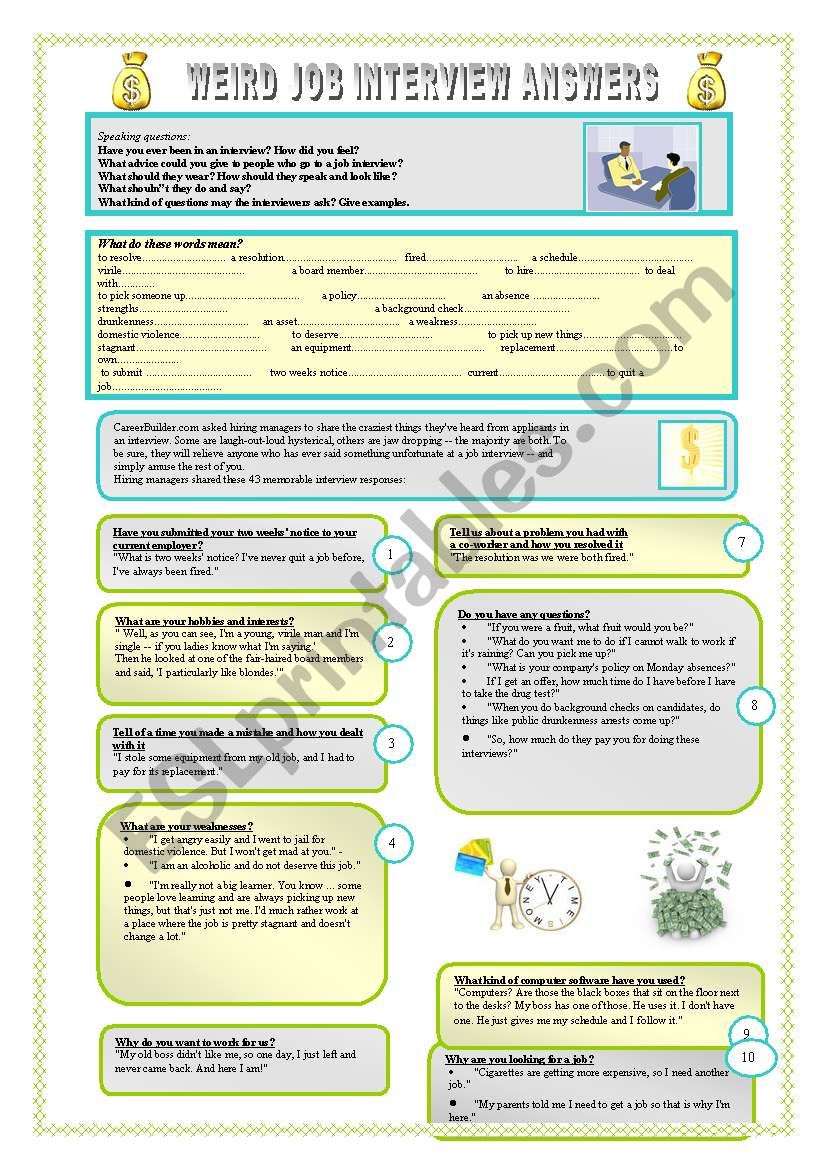 You should think hard about how you can differentiate yourself from others -- every step of the way during the interview. Be memorable in a positive way even when answering these "boring questions." And, to be well-prepared to give smart answers to behavioral interview questions, read my article Smart Strategies to Answer to Behavioral Interview Questions
Tip: If you're applying for a public-facing role, an employer may ask this question to see how you think customers should be treated. A good answer will align with the company's values, which you can glean through researching their customer service policy, understanding their products and clientele, and reflecting on your own experiences as a customer. Your answer can either come from the perspective of a customer or a customer service provider.
Example: "When it comes to managing people, my teaching philosophy is to start by asking questions that hopefully get the person to come to a new conclusion on their own. This way, they feel ownership over the learning rather than feeling micro-managed. For example, in my last role, I was editing an article written by a copywriter I managed. The story didn't have a clear focus or hook. In a one-on-one meeting, I asked her what she thought was the main point of the article if she had to sum it up in a sentence. From there, I asked if she thought the focus was clear in the article. She didn't think it was clear and instead thought she should rework her introduction and conclusion. As a result, the article improved and my direct report learned a valuable writing lesson that she carried into her future work."
"I've heard great things about the work environment here from a few colleagues. And when I saw this job posting, it seemed to match my skills very closely. For example, I saw on the job description that you need somebody who's an expert in Java programming. This is what I focused on in both of my previous positions, and was even the focus of my academic work before graduating university. I consider myself an expert in Java and it's a skill I hope to continue specializing in."
Interview Questions What Is Your Weakness?
Tip: Much like the previous question about motivation, employers might ask what you are passionate about to better understand what drives you and what you care most deeply about. This can both help them understand whether you are a good fit for the role and if it fits into your larger goals. To answer, select something you are genuinely passionate about, explain why you're passionate about it, give examples of how you've pursued this passion and relate it back to the job.
Employees who love their jobs naturally recommend their company to their friends and peers. The same is true for people in leadership positions -- people naturally try to bring on board talented people they previously worked with. They've built relationships, developed trust, and shown a level of competence that made someone go out of their way to follow them to a new organization.
Any candidate can read and regurgitate the company's "About" page. So, when interviewers ask this, they aren't necessarily trying to gauge whether you understand the mission—they want to know whether you care about it. Start with one line that shows you understand the company's goals, using a couple key words and phrases from the website, but then go on to make it personal. Say, "I'm personally drawn to this mission because…" or "I really believe in this approach because…" and share a personal example or two.